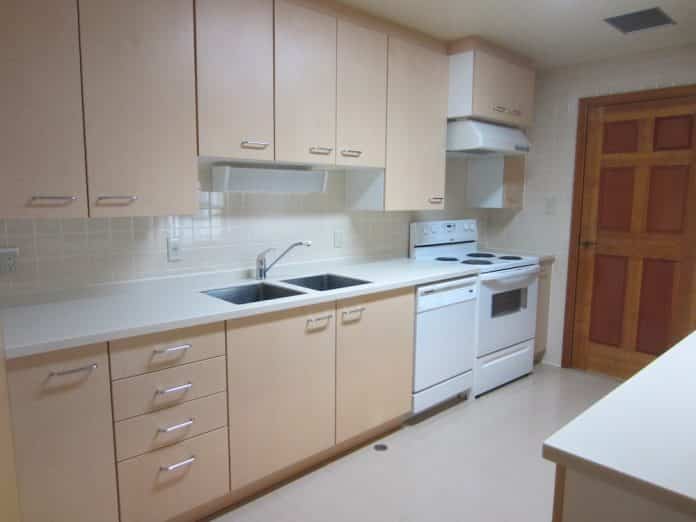 For those of you planning a move to Okinawa soon, we hope Marie's descriptions of the process of their travel and first months of settling in can help you with a few of the "unknowns." To read more of their story see links at the bottom of the post.
CONTRIBUTED BY MARIE LEWIS
The one thing I was DYING to know before our PCS was what our new home would look like. I was grasping at straws trying to get a clue. So I've included in this post as many pictures as possible for those of you imagining your options. I will preface this by saying that there are a lot of variables when it comes to where you will live and in what condition you will find your new quarters. I'll get to those variables in just a moment. (Posts regarding on-base houses and off-bases houses)
We attended our first housing briefing just three days after we landed on island. We were led into a conference room with a handful of other couples, where we learned how the assignment process works. A woman explained to us that whether we would live on base depended upon several factors: number of bedrooms we rated, current capacity, rank, and proximity of available housing to active duty member's work location. Are you confused yet? Basically, the numbers were different for everyone in the room. Kenny and I rated a two-bedroom unit because we have no children. He would be working on Camp Foster, and the two-bedroom units there were at 93 percent capacity. Currently, anything below 95 percent means you are required to live on base. So Kenny and I were certain we would not be living out in town. A few couples in the room had a choice to live on or off base because capacity for their rated quarters was above 95 percent. One couple was informed they would have to live off base because the type of housing they needed with their children was 100 percent full.
The next step was viewing available units. Typically, we were told, you will be allowed to see two different places and pick one or the other. Because we arrived in the beginning of PCS season, we didn't think we would have to wait for more than a week or so to see something. Many people were moving off the island already and the summer rush onto the island was not yet in full swing. This was not the official word, but rather what we heard from some more seasoned islanders. For instance, we met a few families who had to live off base because when they arrived at the end of summer, there was nothing left on base.
The phone call to view our potential new home came much more quickly than expected — that same day! I couldn't believe it. Just a couple of hours after our briefing, we were picking up the keys to a multiplex and a tower unit to inspect. We were torn on what we'd want; I wanted a yard but wasn't too keen on mowing, and we'd heard mixed reviews about living in a high-rise. The choice came easily once we saw the places though.
First up, the multiplex: I liked that it was ground-level (no lugging groceries up an elevator.) I also liked that it was two levels with the bedrooms upstairs, had laminate floors downstairs, one and a half bathrooms, and a spacious back patio. What I didn't like: the laundry was right off the kitchen, the tall patio walls blocked any breeze, and the kitchen was tiny with limited counter space. It was not bad overall, and in good condition, but I felt luke-warm about it.
Our second viewing was on the 8th floor of a tower. That's a lot of stairs if the elevators go down, I thought. Once I walked in the door, however, thoughts of doubt came to a screeching halt. My first gaze fell on the kitchen. It was huge compared to the last one we'd seen, with tons of counter space.

Newlywed kitchen 1

Newlywed kitchen 2
I like to make a general mess while I'm cooking (or learning to cook anyway,) so it was heaven. The cabinets were deep and I knew they'd fit all the wedding gifts we hadn't even had a chance to use yet. I was impressed with the amount of storage space and the openness of the living/dining area. The bedrooms seemed about the same size as those we'd seen in the multiplex.

Newlywed Master Bedroom

Newlywed Laundry Room
One look at the view and it was a done deal. We had two balconies, one off of the living room and one off of the master bedroom. The one off our bedroom had a view of the East China Sea. I could already see myself out there sipping coffee and typing away on my laptop. We promptly notified the housing office of our decision.

Newlywed Balcony view
The actual move-in came nine days later. Temporary government furniture had already been delivered by the time we picked up the keys. We had selected which government furniture we wanted based on what we'd brought with us. Our HHG delivery came that day, and our UAB the next day. Strange, how our household goods arrived before our "express" shipment. It was no matter. We had everything we needed within that first 48 hours.

Newlywed Dining Area
I have a love-hate relationship with unpacking. It's a pain, for sure. But it's another chance to organize all the things I never got around to organizing in the last place I lived. Displaying vases in different arrangements or storing blankets on another shelf somehow makes them seem new again. And oh, the unused wedding gifts! We'd first opened them in New York, then packed and re-opened them in San Diego, only to pack them back up a few months later and send them clear across the Pacific. I promised myself I would use them ALL before our next move.

Newlywed Unpacking
One thing I wish we'd addressed sooner was our internet. We had our unit number assigned about a week before our actual move-in date. That was when we should have scheduled our internet hook-up. Instead we waited until we were physically moved in, and by that time the wait for internet set-up was a full two weeks later. Another lesson learned. (I got to know the library computer lab pretty well!) Aside from that inconvenience, we've been extremely happy so far with our choice.
---
Read all the posts in this series: Parts 1, 2, 3, 4, 5, 6, 8, 9, 10, 11, 12, 13, 14