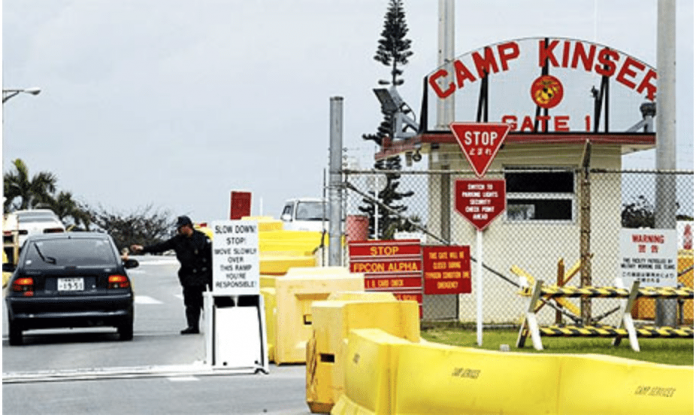 We will be publishing base reviews of all US Military Installations on Okinawa over the course of the rest of this year. Many thanks to Anthony for taking on this time-intensive and incredibly helpful series for our readers!
CONTRIBUTED BY ANTHONY CAMINA
Camp Kinser, Urasoe City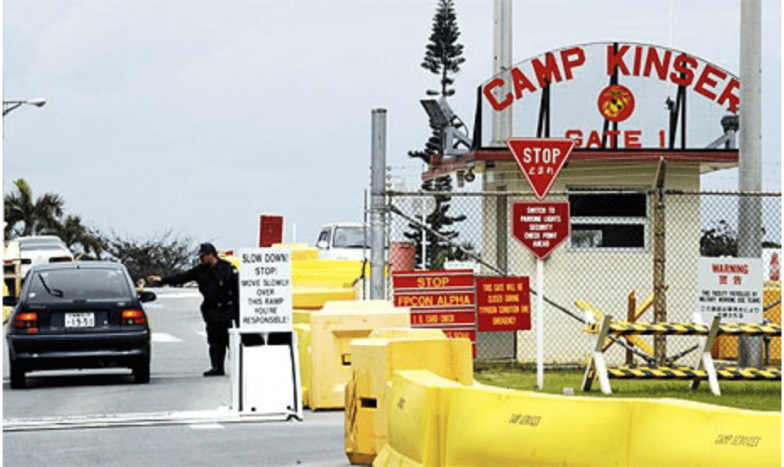 Overview
Camp Kinser is one of the southernmost bases on Okinawa and is near the prefecture capital city of Naha. It is named after Sergeant Elbert L. Kinser who was awarded the Congressional Medal of Honor posthumously for his heroic actions during the Battle of Okinawa during the Second World War. Camp Kinser is one of several installations throughout Okinawa which make up the Marine Corps Base Smedley D. Butler.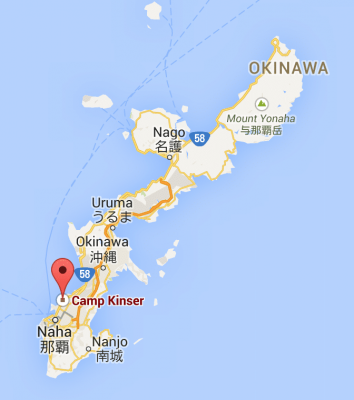 Housing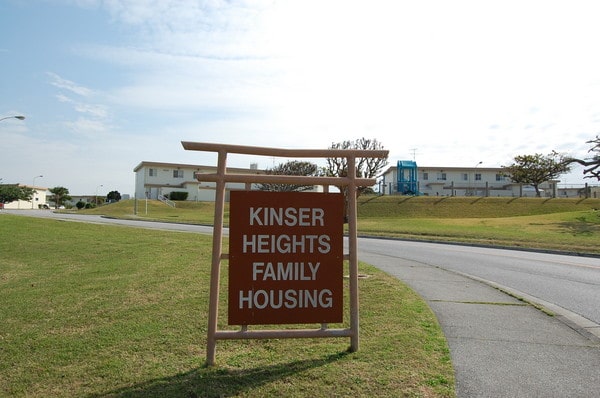 Camp Kinser has on-base family housing units and a satellite military housing office. Units on Kinser range from multiplex to tower apartment style quarters. All housing on Okinawa is run by the Air Force. For more information or floor plans you can visit the Okinawa housing website at: https://www.housing.af.mil/Units/Okinawa/
Current as of February 2015, you can only live off base if your designated housing areas are 98 percent filled or above. The primary housing area for Kinser is on Camp Kinser and the secondary housing area is Camp Foster. Generally 4 bedroom housing fills up the fastest because only the multiplex units contain quarters that large. The housing occupancy numbers are updated weekly.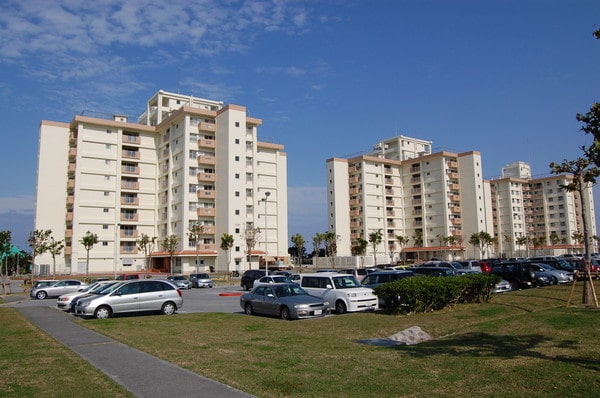 Camp Kinser also has bachelor quarters for junior enlisted, Staff NCO, and Officer unaccompanied Marines. Most individual units manage their own barracks but SNCO and Officer Quarters are managed by the base's Camp Services Section.
There are no temporary lodging units on Camp Kinser. Most inbound families to Camp Kinser typically stay at the WestPac Lodge (Camp Foster) https://www.mccsokinawa.com/lodging/ or Shogun Inn https://af.dodlodging.net/propertys/Kadena-AB (Kadena AFB).
Shopping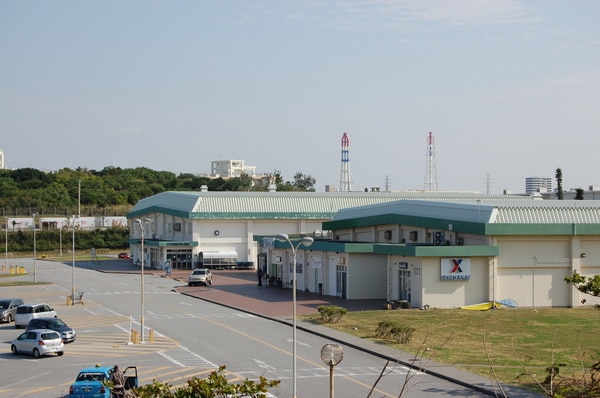 The base has a small exchange in building 1227 which offers a decent electronics, apparel, household goods, toy and stationery section. The main Base Exchange (BX) building houses a food court, Community Bank ATM, barber shop, beauty shop and video game arcade. The BX here also has a military clothing store which has a decent selection of Navy and Marine Corps uniform items. On the external side of the BX, facing the parking lot is the dry cleaning, tailor, Softbank cell phone retailer, and Exchange new car sales office. The main website for the BX on Camp Kinser is: https://www.shopmyexchange.com/exchange-stores/Okinawa/OKI/Camp%20Kinser/Camp-Kinser-1771006
Adjacent to the main BX is a medium sized commissary. This particular commissary takes cash, credit or debit cards but does not have self-checkout lanes. There is also a deli and bakery onsite that one can order a sandwich at lunchtime or preorder a custom birthday cake. For more info visit: https://www.commissaries.com/stores/html/store.cfm?dodaac=HQCWHP
Camp Kinser also is home to the base facilities' main bakery, located in building 301. The main bakery has a small retail store which sells items direct to customers, sometimes at a discounted price.
An exchange convenience store near the post office and bowling alley sells alcohol, snacks, drinks, hotdogs, medicine, magazines and some household convenience items.
There are two financial institutions located on Camp Kinser. Community Bank is located in building 1205 and is the only of the two financial institutions that can exchange foreign currency. Navy Federal Credit Union serves all branches of the military to include DoD members and their families. The credit union is located near the base theatre in building 519. For more info on Navy Fed visit their website at: https://www.navyfederal.org/branches-atms/locations-by-service.php?branch=MarineCorps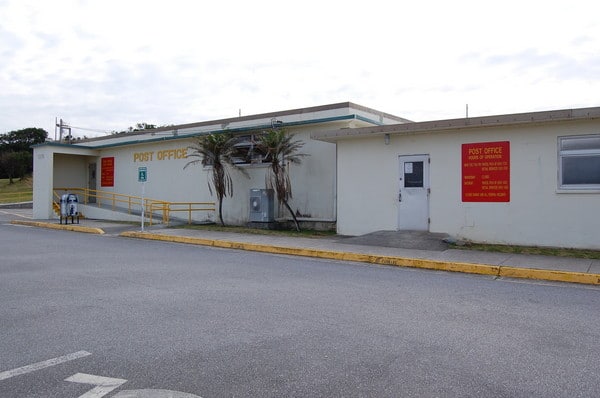 There is a fully functional United States Post Office that offers retails services such as Express Mail, Priority Mail, standard shipping, stamp sales and money order sales. The post office accepts cash, credit or debit cards. The Kinser post office also houses PO boxes which are issued to personnel with an area clearance. A sponsor can reserve a PO Box for an inbound family prior to their arrival on island as long as he has a copy of that inbound family's area clearance and orders. It is extremely helpful for a family to know their new mailing address before they have to move to Okinawa.
Dining
The Exchange food court offers franchise favorites such as Pizza Hut, Taco Bell and Subway. In the same building but closer to the exchange entrance is the Marion Café, which is affiliated with Green Beans coffee and offers beverages, smoothies and light meals. The food varies from breakfast platters and sandwiches to curry rice. The Café also offers free Wi-Fi and specializes as a coffee shop. All food court eateries accept cash, credit, debit and yen. You can also order your meals online for pickup via the Kinser Food Court online menu at: https://aafesprem.imenu360.com/547.
A Burger King restaurant with a drive through window is located near the main exchange in building 1227. This facility offers ample parking and seating but does not have a kids' playarea. There is a playground and pavilion located across the street adjacent to Roberts Field.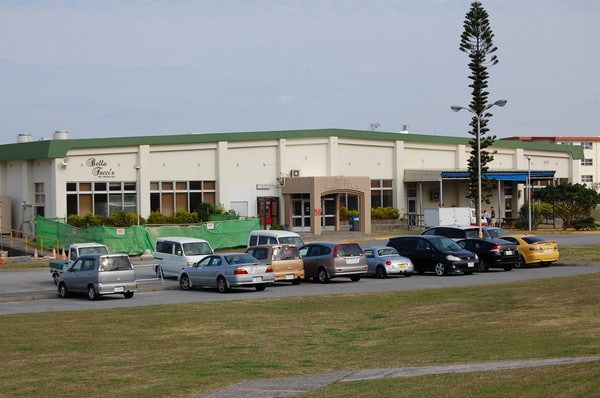 The base club is called the Kinser Surfside, which has Officer, SNCO and Enlisted lounges as well as an all-ranks full service restaurant. The view from the main dining room at the surfside is superb, and the main restaurant usually has themed buffet lunches. The Surfside as of February 2015 is in the process of a major renovation. Updates and details can be found at: https://www.mccsokinawa.com/surfside/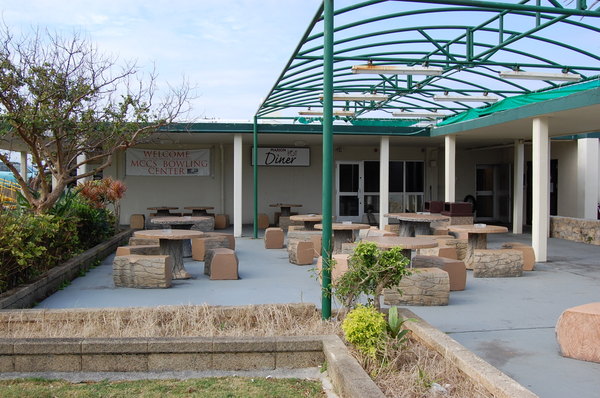 Near the bowling alley is the Marion Diner, which is more of a restaurant than its sister store near the main exchange. This establishment is a popular alternative to the food court, particularly at lunch time.
One of the best kept secrets on Camp Kinser is the American Grill within building 107. As one of the few remaining American Grill eateries left on island, it is one of the best places to get an affordable bite to eat. Particularly popular here are the breakfast combos which range around $5 or $6 and are generous portion sizes. It is fairly small inside with only four tables seating about four people each, but there are picnic tables just outside the rear entrance to the building.
Recreation
There is a base gym located in building 1307 which offers a large weight room, adequate cardio room, racquetball courts, basketball court, HITT room, and martial arts room. For specific information on hours or contact info, please visit the MCCS Fitness Center website at https://www.mccsokinawa.com/fitness/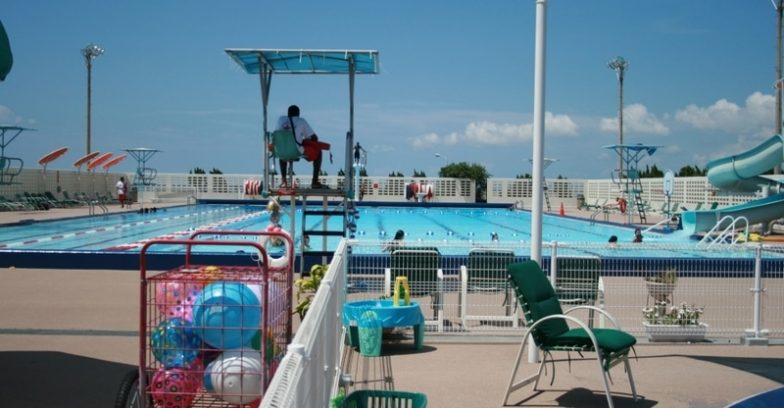 Near the gym is the base pool. The pool offers both recreational and lap swim. You can read more about this pool in an article about the Kinser pool, previously published in 2008, here: https://okinawahai.com/kinser-pool/
The main athletic area on Camp Kinser is Roberts Field, which is composed of a football field surrounded by a 400 meter track. Adjacent to the track is a small park with pavilions, grills and a playground.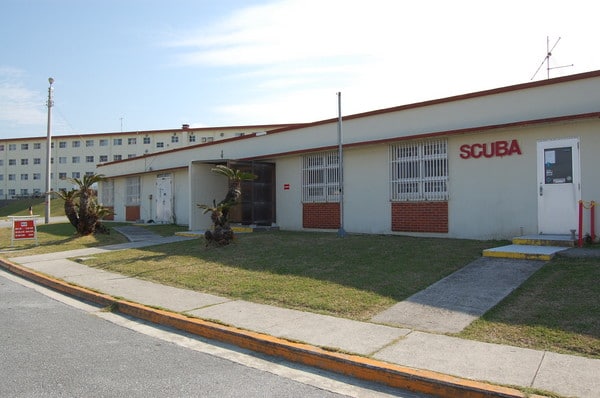 At one time there was beach access to the base. Due to the land reclamation efforts and construction of an elevated bypass road, this is no more. However, Tsunami Scuba is a well-stocked scuba shop on Kinser, which also offers lessons and certifications. Despite not being able to access the ocean directly from the base, there are still several nearby beaches which offer crystal clear waters teeming with exotic life. Okinawa is truly a diver or snorkeler's paradise. The website for all island dive shops is: https://www.mccsokinawa.com/tsunamiscuba/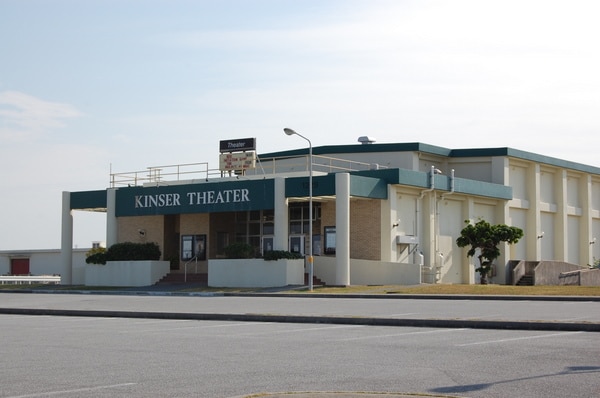 For those wanting to keep abreast of the latest Hollywood blockbuster, the base theatre here offers current movies inside with a beautiful view of the Pacific Ocean outside. For current prices and show times visit the Exchange Reel Time website at: https://www.shopmyexchange.com/reel-time-theatres/Camp-Kinser-1771006. (You can also find more information about theaters across the island on this post, published in December 2014.)
Family Services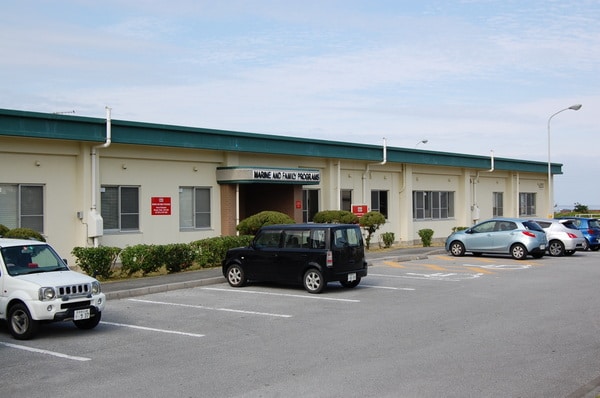 Marine and Family Programs have a well-equipped facility which is located within building 1220. For more information you can go to their webpage at: https://www.mccsokinawa.com/mfp-r/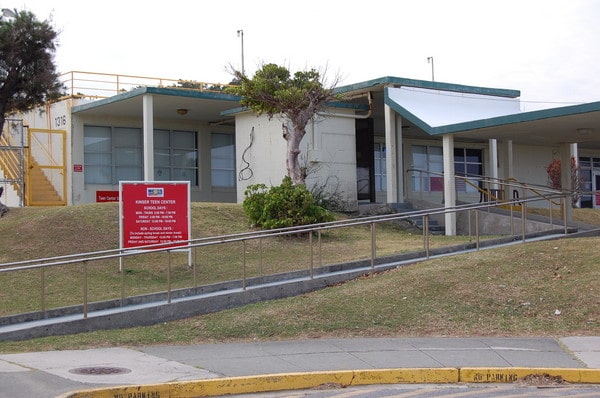 The Kinser Teen Center is available for dependents between the ages of 13-18 and is found in building 1316. Specific information is available at: https://www.mccsokinawa.com/youthandteen/
Nearby the Teen Center in building 1319 is the Kinser Bowling Alley. This facility is a cozy but affordable recreational option. For specific information on the MCCS bowling alleys, visit https://www.mccsokinawa.com/bowling/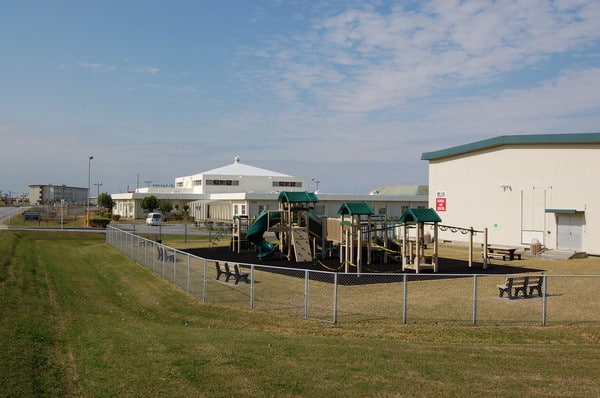 Children who are a bit younger can find activities at the Kinser Youth Center which has recreational activities for children between the ages of 10-12. Specific information can be found at: https://www.mccsokinawa.com/youth_centers/
A Child Development Center (CDC) on Camp Kinser called the Kinser Yuimaru located in building 864. Specific information can be found at: https://www.mccsokinawa.com/cdc/
Education
The only DoDEA School on the facility is Kinser Elementary School. The official website for the school is: https://www.dodea.edu/Pacific/Okinawa/CampKinser/KinserES/index.cfm
There is no middle or high school on Camp Kinser. Most middle school students living on Kinser are bussed to the nearby Lester Middle School and high school students usually attend Kubasaki High School on Camp Foster. Both are highly regarded DODEA schools, and like all the DODEA schools on island are considered to be the safest and highest performing in the nation. For more information visit: https://www.dodea.edu/Pacific/Okinawa/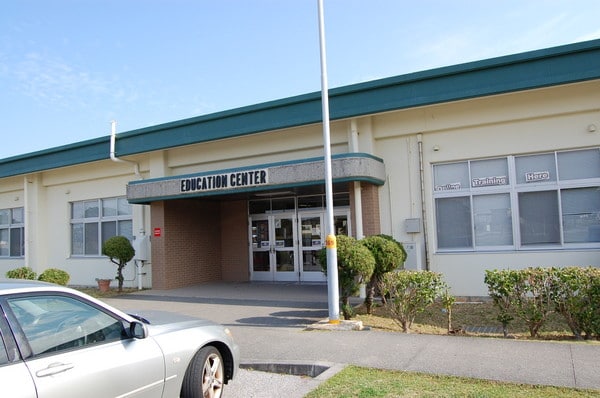 The base Education Center (building 1220) offers tuition assistance help as well as hosting various self-help and transitional classes offered by MCCS. The education center contains offices manned by representatives from the main college campuses offered on Okinawa as well as flyers and literature from various online campuses. For more info on the education options on Kinser through MCCS visit: https://www.mccsokinawa.com/educationandcareerservices/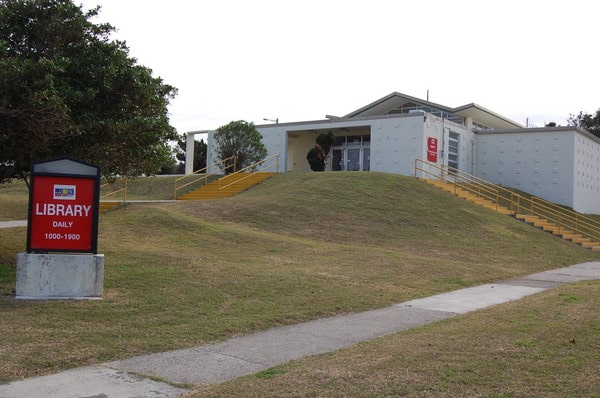 There is a MCCS-run library on Kinser that loans out books, movies and video games. There are also a variety of resources on site such as computer access, printers and reference materials. All MCCS libraries are networked, so a book checked out on another base can be returned at this location. For more information visit their webpage at: https://www.mccsokinawa.com/libraries/
Unique Attractions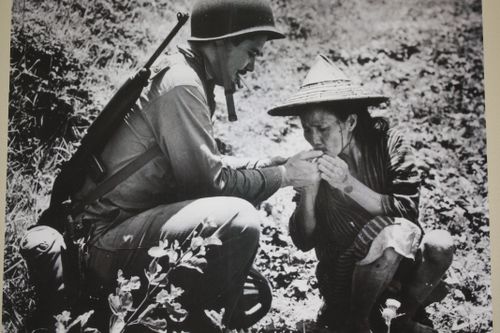 Camp Kinser is home to the Battle of Okinawa Historical Display Museum. If you are at all interested in World War II then this place is a must see. It is run on a volunteer basis and is located in building 107. Click on the link above to see our article with more details.
Kadena's 18th Force Service Support Squadron has a large laundry facility here on Kinser in building 706, which offers services ranging from large comforter and carpet cleaning, pillow refurbishment, to sewing and alterations. The website is https://www.kadenafss.com/life-career/laundry and lists the full range of current services, hours and contact info.
Medical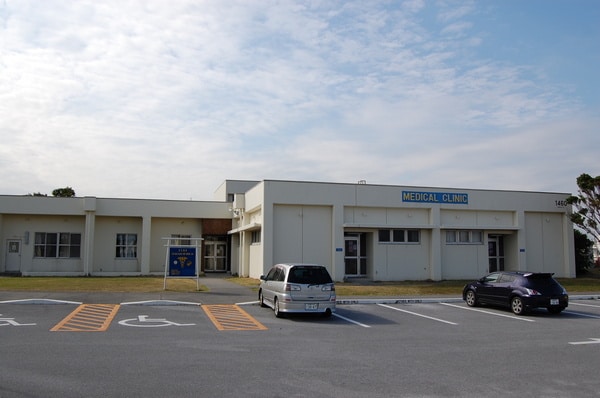 Camp Kinser has its own medical and dental branch clinics which services family members, retirees and active duty alike. Specific information on the Kinser Medical clinic located in building 1460 can be found at: https://www.med.navy.mil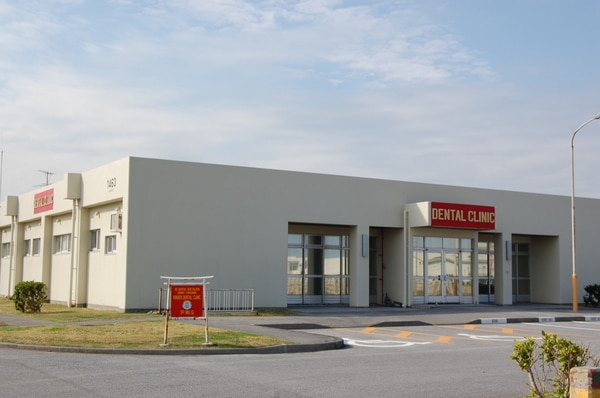 The Dental clinic is next door to the Medical clinic. The main page for info on all the Dental clinics on island can be found at: https://www.med.navy.mil
Transportation & Car Care
There is a gas station and repair shop operated by the Exchange on this camp located in building 626. The service station does oil changes and other repairs by appointment. Store information can be found at: https://www.shopmyexchange.com/exchange-stores/Okinawa/OKI/Camp%20Kinser/Camp-Kinser-1771006
The auto hobby shop on Camp Kinser is Typhoon Motors. This facility is run by MCCS and offers full service repairs or bay, lift, or tool rental for those wanting to get their hands dirty. The main page for all things Typhoon Motor related on island is: https://www.mccsokinawa.com/typhoonmotors/
Marine Corps Bases Camp Butler offers a camp to camp bus service called The Green Line for service members, and space available transportation for authorized ID card holders. The Camp Kinser Bus is the #6 line and goes from Kinser to MCAS Futenma and Camp Foster. For more information you can visit the MCB Butler Shuttle Service main page at: https://www.mcbbutler.marines.mil/BaseInformation/TheGreenLine.aspx
There are various taxi services available in the area. Here is a useful article from Staci on the subject: https://okinawahai.com/taxis-and-thong/
Popular Nearby Attractions
Since Camp Kinser is located near the largest city in Okinawa, there is an abundance of activities to do in the area. Below are but a few suggestions by fellow Okinawa Hai alumni.
You can find all our Okinawa Hai reader-reviewed restaurants on-island, with an extensive section covering the Naha-Kinser area on our To Eat Index – By Location page.
Many readers particularly love and recommend Arin Krin, also known as the Garlic House restaurant. A must visit place for not only Kinser residents but anyone on island.
Urasoe City Park & Castle Site:
A great guide to small parks in the area
Art museum near the base worth visiting
Urasoe Dai Park, one of the top areas to spend the day
Kakazutaka Observatory Park, a regular run to-and-back destination from Kinser:
Round 1, another must-do place near Kinser that family members of all ages will love year-round
Kinser is also the closest place to the commercial airport in Naha, which can be a fun distraction even if you don't intend on taking a flight. Here is an article by Joel: https://okinawahai.com/naha-international-airport-2/
---
Have we missed something useful about Camp Kinser in this post? Please leave a comment with any information that can be helpful for our community!