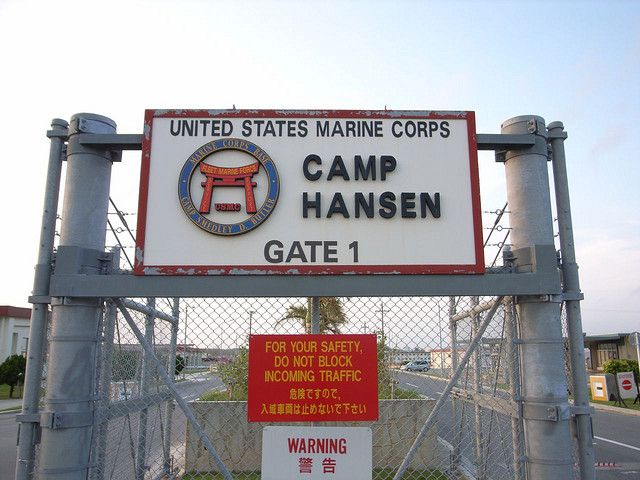 We will be publishing base reviews of all US Military Installations on Okinawa over the course of the rest of this year. Many thanks to Anthony for taking on this time-intensive and incredibly helpful series for our readers!
CONTRIBUTED BY ANTHONY CAMINA
Camp Hansen, Kin Town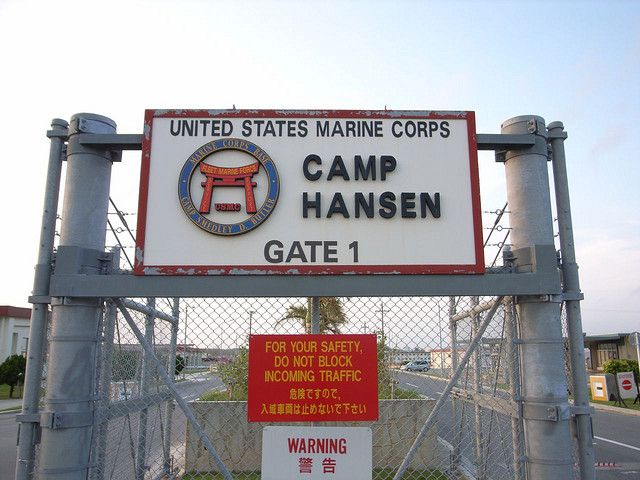 click photo for source
Overview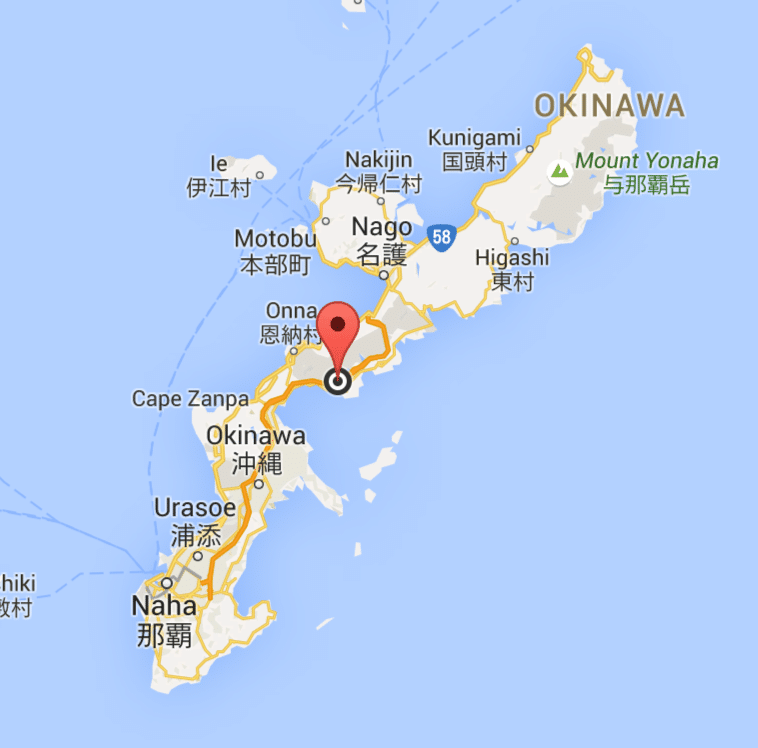 Camp Hansen is located adjacent to the north end of Kin bay and is the third northernmost Marine Camp on Okinawa. It is named after Private Dale M. Hansen who was awarded the Congressional Medal of Honor posthumously for his heroic actions during the Battle of Okinawa, specifically for heroism in the fight for Hill 60. Camp Hansen is one of several installations throughout Okinawa which make up the Marine Corps Base Smedley D. Butler.
Lodging
Camp Hansen does not currently have family housing units. Most accompanied personnel who work on Camp Hansen reside on Camp Courtney, Camp Mc Tureous, or off base. As of May 2015, you can only live off base if your designated housing areas are 98 percent filled or above. Housing units at these locations range from multiplex to tower apartment style quarters. The housing occupancy numbers are updated weekly. You can also get on the housing wait list a month prior to arrival by filling out and submitting an advance housing application to the Kadena housing flight. All housing on Okinawa is run by the Air Force. For more information or floor plans you can visit the Okinawa housing website at: https://www.housing.af.mil/okinawa/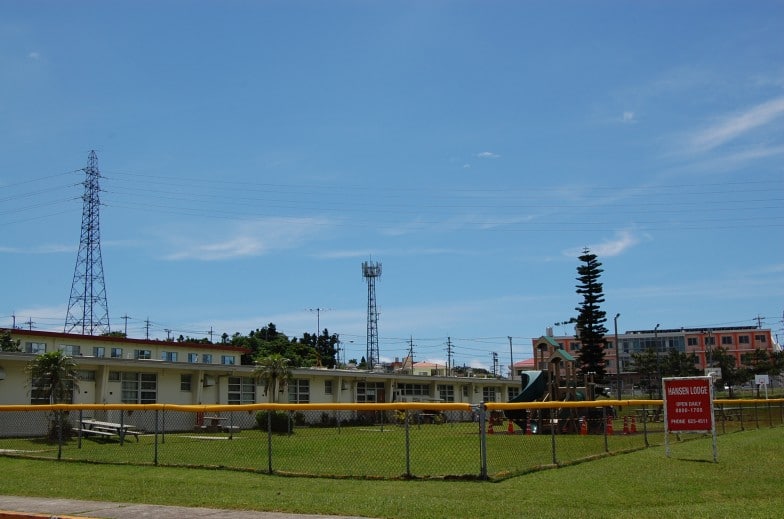 Camp Hansen does also have bachelor quarters for junior enlisted, Staff NCO, and Officer unaccompanied Marines. Most individual units manage their own barracks but SNCO and Officer Quarters are managed by the base's Camp Services Section.
Contrary to common knowledge, Camp Hansen does have temporary lodging units. Typically most inbound families to Camp Hansen stay at the:
Hansen Lodge https://www.mccsokinawa.com/hansen_lodge/
Courtney Lodge https://www.mccsokinawa.com/courtney_lodge/
Navy Gateway Inn https://ngis.dodlodging.net/propertys/Okinawa-CFA—Japan (Kadena AFB)
or Shogun Inn https://af.dodlodging.net/propertys/Kadena-AB (Kadena AFB).
Shopping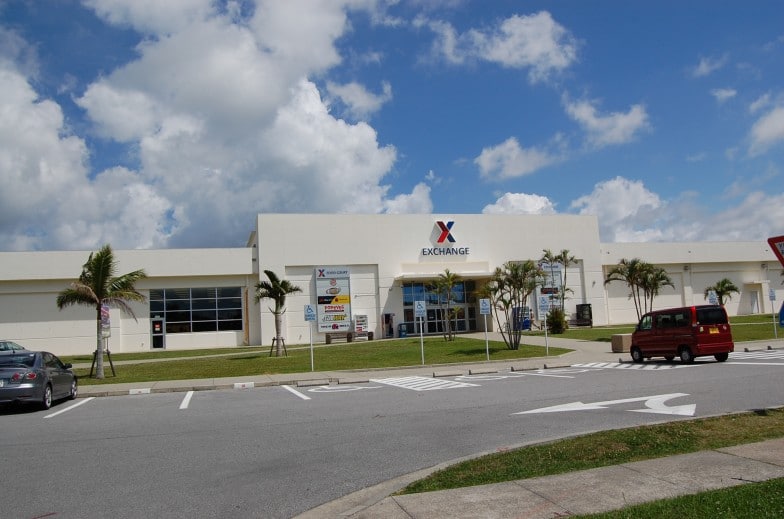 The base has a moderately sized exchange in building 2419 which offers decent electronics, apparel, household goods, recreation, and stationery sections. The main exchange building houses a food court, community bank ATM, barber shop, beauty shop and mini mall. The Exchange here also has a military clothing store which has a decent selection of Navy and Marine Corps uniform items. Inside the exchange mini mall is the Dry Cleaning, tailor, Softbank cell phone retailer, plaque shop, souvenir shops, music instrument store and exchange new car sales office. The main website for the Exchange on Camp Hansen is: https://www.shopmyexchange.com/exchange-stores/Okinawa/OKI/Camp%20Hansen/Camp-Hansen-Retail-Store-1771113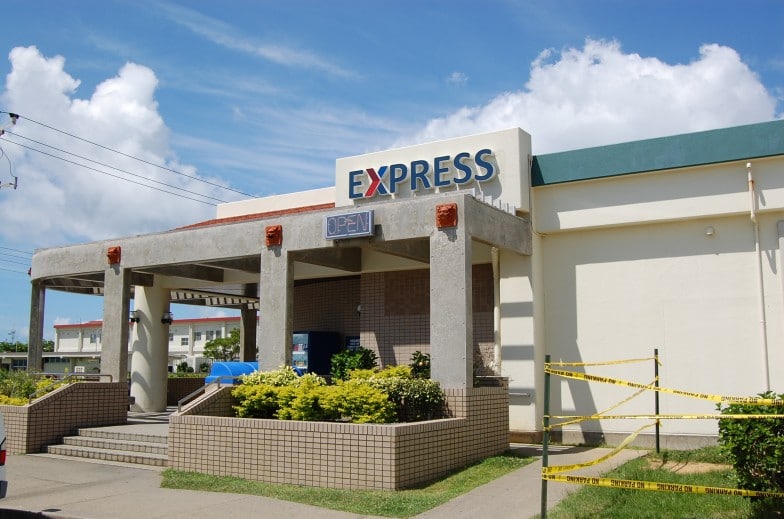 There is an exchange convenience store near the post office and bowling alley which sells alcohol, snacks, drinks, hotdogs, medicine, magazines, and rents videos.
There are two financial institutions located adjacent to one another on Camp Hansen. Community Bank is located in building 2374 and is the one of the two financial institutions that can exchange foreign currency. Navy Federal Credit Union is next door and serves all branches of the military, to include DoD members and their families. For more info on Navy Fed visit their website at: https://www.navyfederal.org/branches-atms/locations-by-service.php?branch=MarineCorps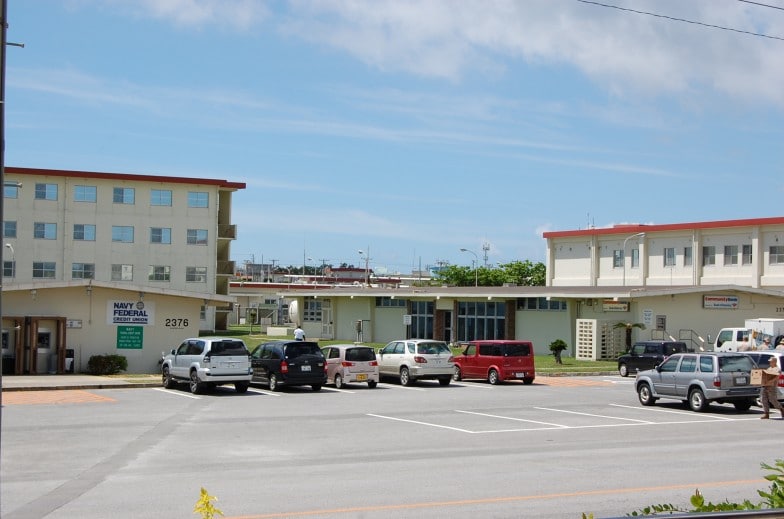 There is a fully functional United States Post office in building 2385 that offers retails services such as Express Mail, Priority Mail, standard shipping, stamp sales and money order sales. The post office accepts cash, credit, or debit cards. The Hansen post office also houses PO boxes which are issued to personnel with an area clearance. Despite many misconceptions, a sponsor can reserve a PO Box for an inbound family as long as he has a copy of that inbound family's area clearance and orders. It is extremely helpful for a family to know their new mailing address before they move to Okinawa.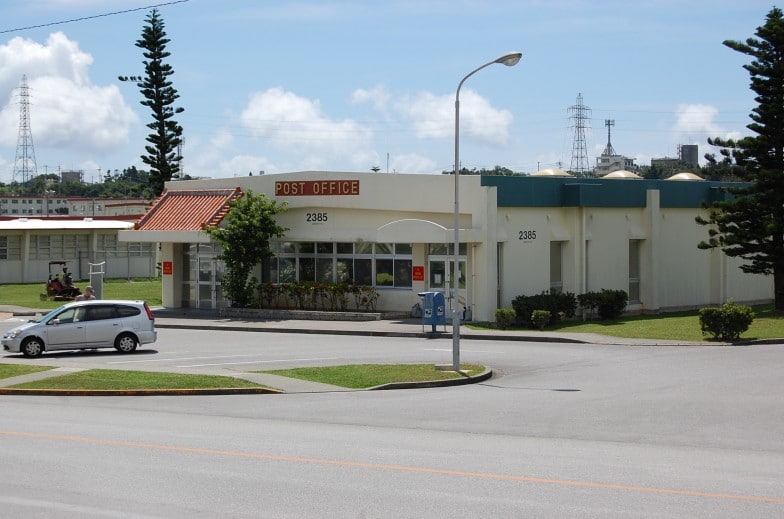 Dining
The Exchange food court in the main exchange offers franchise favorites such as Pizza Hut, Taco Bell, Popeye's, Burger King, Charley's and Subway. All food court eateries accept cash, credit, debit and yen. You can also order your meals online for pickup via the Hansen Food Court online menu at: https://aafesprem.imenu360.com/544 .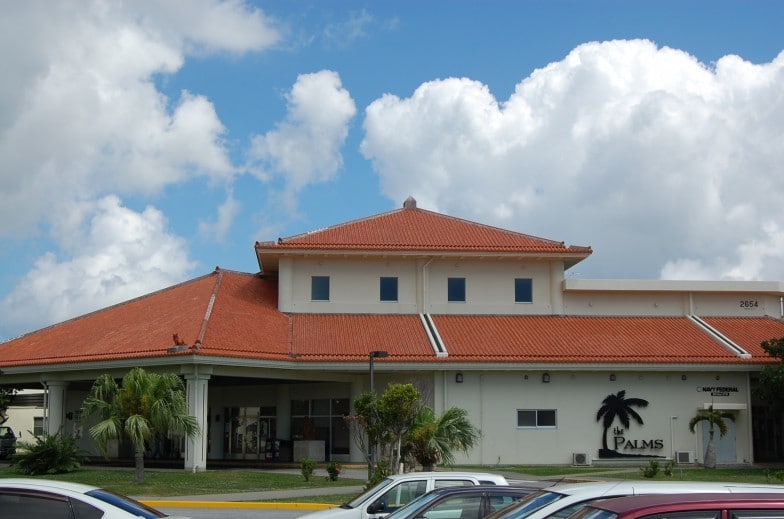 The Camp Hansen club is called the Palms which host an Officer, SNCO, and Enlisted lounge as well as an all-ranks full service restaurant called Trade winds. A favorite event at Trade winds on Friday and Saturday night is the Chariot of Beef, which is a cart in the center of the dining room that serves hand carved beef prime rib, loaded mashed potatoes, parsley carrots, creamed spinach, and Yorkshire pudding.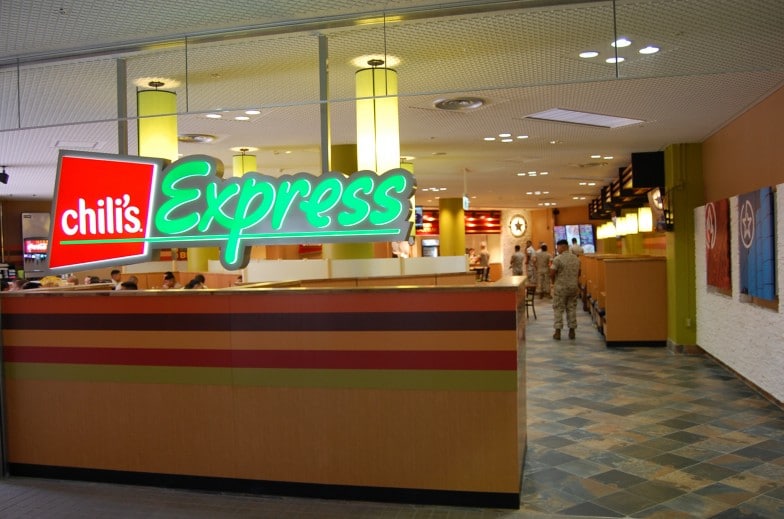 For those who desire a less formal meal, there is also a new Chili's Express in the area previously occupied by the Coconut's fast food bar. For more info visit: https://www.mccsokinawa.com/thepalms/
Recreation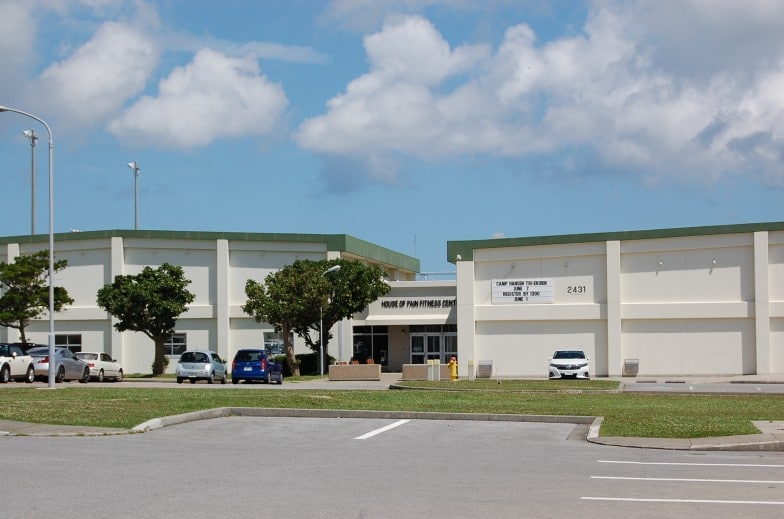 There are two base gyms on Camp Hansen. The House of Pain gym is located in building 2431 and offers a large weight room, adequate cardio room, racquetball courts, basketball court, HITT room, sauna and martial arts room. House of Pain North gym is located in building 2828 and offers a combined weight and cardio room, softball field and second floor martial arts room. For specific information on hours or contact info, please visit the MCCS Fitness Center website at https://www.mccsokinawa.com/fitness/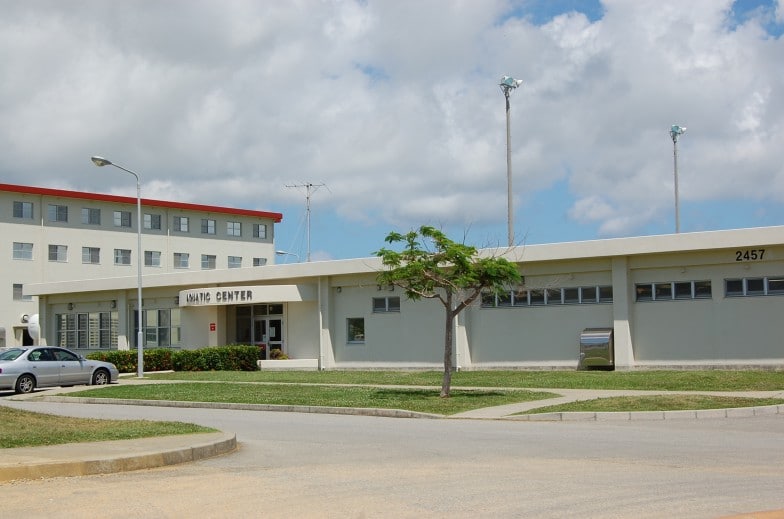 The Camp Hansen aquatic center is located in building 2457. The 50 Meter pool offers both recreational and lap swim while the 25 Meter pool is reserved for unit training. For more info visit: https://www.mccsokinawa.com/aquatics/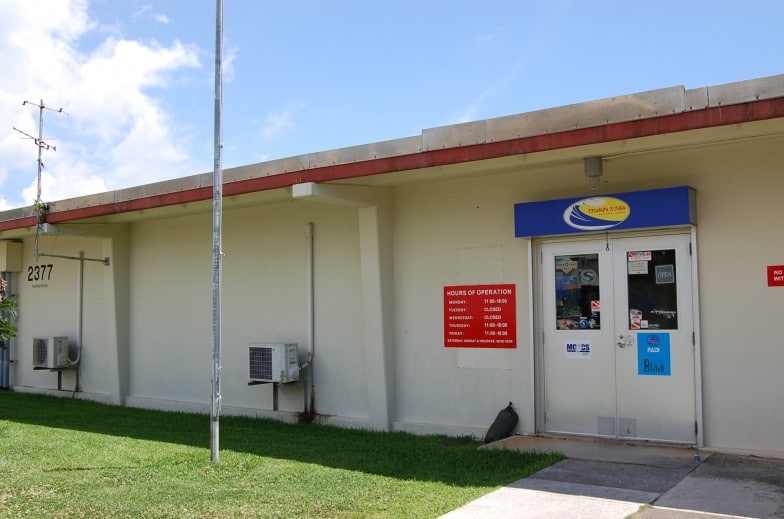 There is a well-stocked scuba shop on Hansen which offers lessons and certifications called Tsunami Scuba. Despite not being able to access the ocean directly from the base, there are several nearby beaches which offer crystal clear waters teeming with exotic life. Okinawa is truly a diver or snorkeler's paradise. The website for all the island dive shops is: https://www.mccsokinawa.com/tsunamiscuba/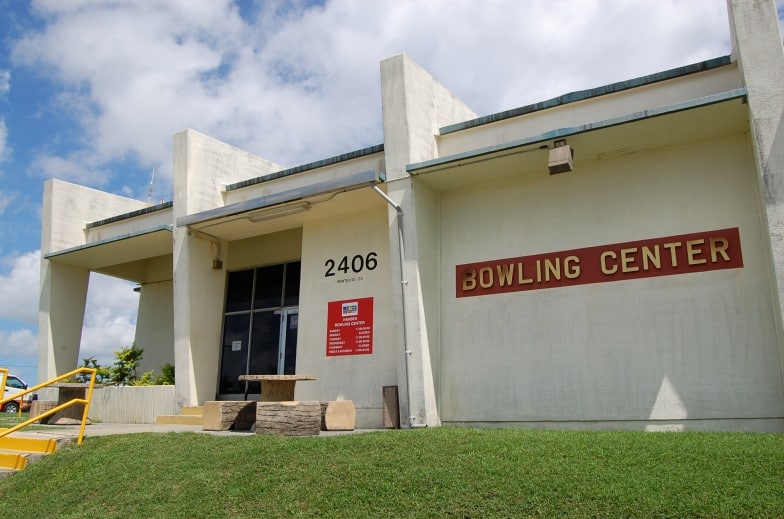 Strikers Bowling Center is located in building 2406. This bowling alley might not be as large as some of the other bases, but it makes up for the smaller size in charm and friendly staff. For more information on all the MCCS bowling centers on island visit: https://www.mccsokinawa.com/bowling/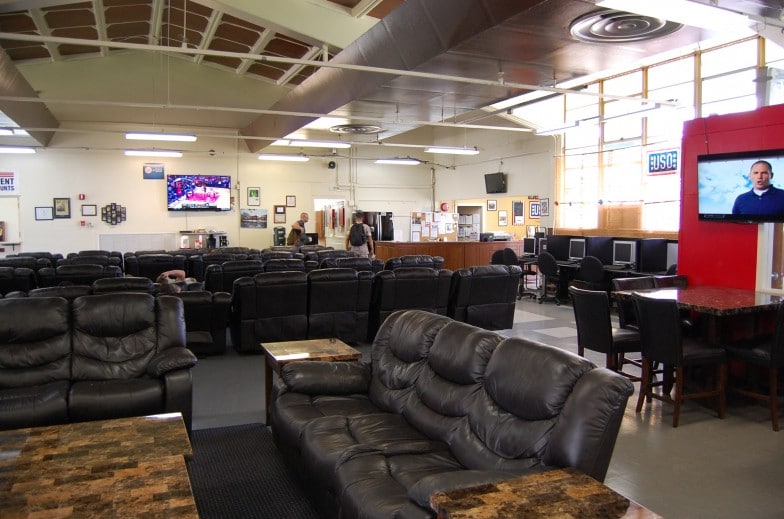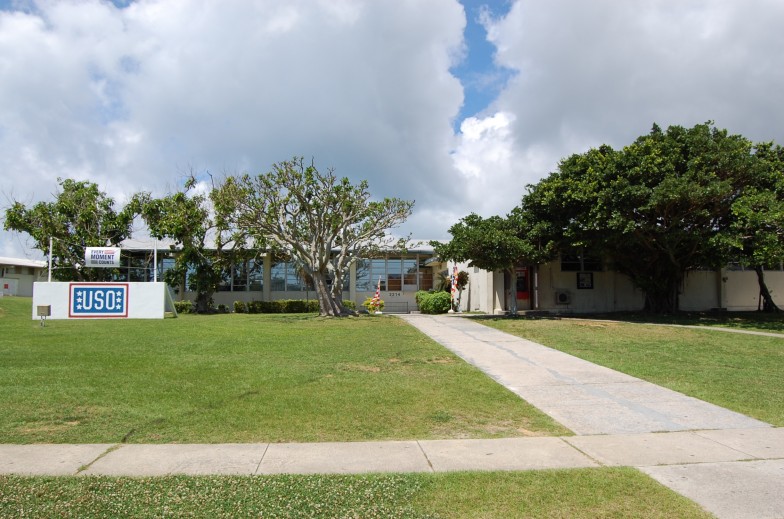 A favorite communal spot for most stationed on Camp Hansen is the ever popular Hansen USO in building 2214. This particular USO is larger than most on island and offers free refreshment and recreational equipment rentals. There are partitioned media, reading, and gaming rooms as well as an abundance of comfortable seating. Popular events at this location are the free Flapjack Fridays and Waffle/pancake breakfast on Sunday mornings. For current info visit: https://pac.uso.org/Okinawa/Camp-Hansen/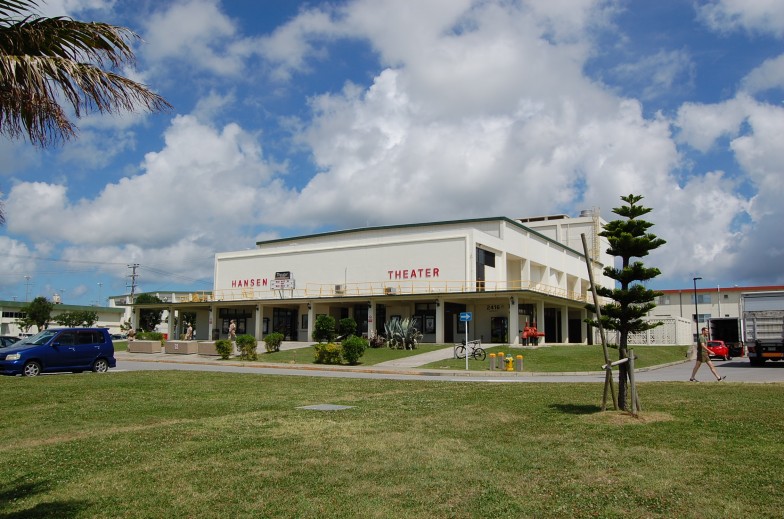 The Hansen Exchange Movie Theatre is next door to the Main Exchange in building 2416. The Theatre plays current theatrical releases in regular and 3D formats. For current prices and show times visit the Exchange Reel Time website at: https://www.shopmyexchange.com/reel-time-theatres/Camp-Hansen-1771113
Education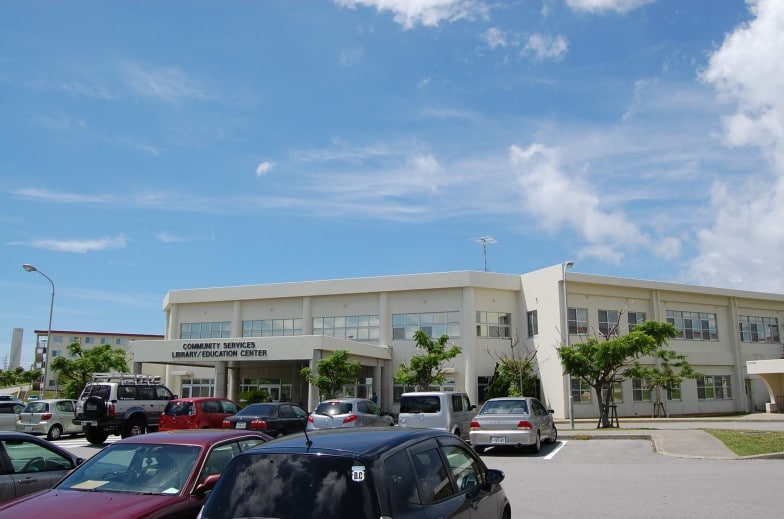 The base Education Center (building 2339) offers tuition assistance help as well as hosts various self-help and transitional classes offered by MCCS. The education center contains offices manned by representatives from the main College Campuses offered on Okinawa as well as flyers and literature from various online campuses. For more info on the education options through MCCS visit: https://www.mccsokinawa.com/educationandcareerservices/
There is a MCCS-run library on Hansen co-located in the Education Center that checks out books, movies and video games. There are also a variety of resources on site such as computer access, printers and reference materials. All MCCS libraries are networked so a book checked out on another base can be returned at this location. For more information visit their webpage at: https://www.mccsokinawa.com/libraries/
Unique Attractions
Camp Hansen has a well maintained 3.2 mile endurance course called the Medal of Honor Endurance Course. Note that though the course is available to anyone with base access, the only approved attire for running the course is boots and utilities or civilian equivalent clothing due to the vegetation and rough terrain. The course is open daily from 0600-0830 and from 1600-1800. Outside of these hours the course can be reserved for units or groups by contacting the Camp Operations Office in building 2860 in person or by calling 623-4274.
Camp Hansen also hosts the world famous Bushido Mud Run annually. Here is an informative article penned by our former Local Manager Marie Lewis: https://okinawahai.com/bushido-mud-run/
Family Services
Marine and Family Programs have a well-equipped facility which is located within building 2339. For more information you can go to their webpage at: https://www.mccsokinawa.com/mfp-r/
Insurance
If you're looking for any kind of insurance, we recommend using a comparison engine to find the right policy at the best rate. The site we use is https://theswiftest.com/
Medical
Camp Hansen has its own medical and dental branch clinics which can see family members on a referral basis but is primarily for active duty personnel. Specific information on the Hansen Medical clinic located in building 2386 can be found at: https://www.med.navy.mil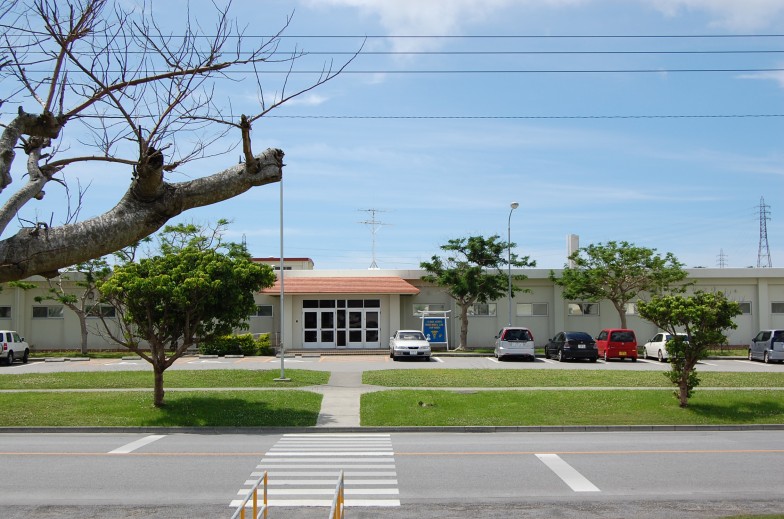 The Dental clinic is next door to the clothing store part of the Main Exchange. The main page for info on all the Dental clinics on island can be found at: https://www.med.navy.mil
Transportation / Car Care
There is a fuel station operated by the Exchange on this camp located in building 2102 (Main Gate). The gas station no longer has attended hours but the fuel pumps function via credit card 24 hours. Store information can be found at: https://www.shopmyexchange.com/exchange-stores/Okinawa/OKI/Camp%20Hansen/Camp-Hansen-Retail-Store-1771113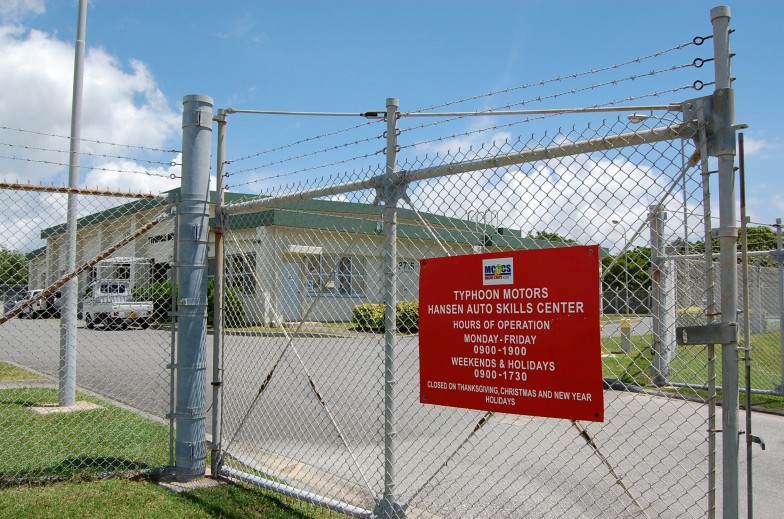 The auto hobby shop on Camp Hansen is Typhoon Motors. This facility is run by MCCS and offers full service repairs or bay, lift or tool rental for those wanting to get their hands dirty. The main page for all things Typhoon motor related on island is: https://www.mccsokinawa.com/typhoonmotors/
Marine Corps Bases Camp Butler offers a camp to camp bus service called The Green Line for service members and space available transportation for authorized ID card holders. The Camp Hansen Buses are the #3 line to Camp Courtney and the #14 line that goes from Hansen to Camp Foster. For more information you can visit the MCB Butler Shuttle Service main page at: https://www.mcbbutler.marines.mil/BaseInformation/TheGreenLine.aspx
There are various taxi services available in the area. Here is a useful article from Staci on the subject: https://okinawahai.com/taxis-and-thong/
Popular Nearby Attractions
There are many attractions near Camp Hansen that are well worth visiting. You can find all our Okinawa Hai reader-reviewed restaurants on-island, with an extensive section covering the Naha-Kinser area on our To Eat Index – By Location page.
Here are but a few other gems surrounding this northern base:
Ginoza Flea and Farmer's Market
Café Del Cielo
---
Have we missed something useful about Camp Hansen in this post? Please leave a comment with any information that can be helpful for our community!